I really wanna post some stuff I received from fellow net friends for my birthday. Was very surprised. I posted these in my Facebook account but wanna repost here. We all are fans of Fukuyama Masaharu, the man I am willing to suffer through savings, visa application and traveling in a foreign land where I don't speak the language. Love these 2!
And thanks for all the birthday wishes! My birthday was mundane actually. Not like when I was young, presents, etc. Now that I am considered "auntie" status by those damn you hawker sellers (!!!!!), maybe my time for such celebrations is over. Everybody else is right; we should have started from old to young eh?
Anyway, the artwork, where seriously shows Photoshop is cool, it is cooler if you know how, coolest when it involves my favourite singer/actor/general guy in it...
And the following is as far as I can do with my PS skills... but it is pure coincidence the day of my birthday happens to be the day with my favourite pose of his...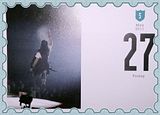 And I will say this here; Japan is probably the only country where with such a massive disaster, I haven't seen any huge discounts for hotels in Tokyo. In fact, none at all.