If he did say this;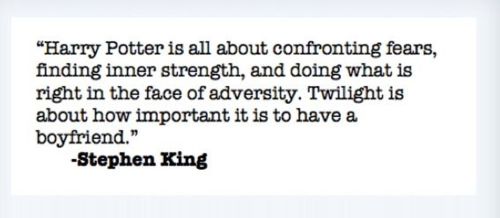 Or at least he did say something like the above quote
here
.
It must be a crazy age of whatever stupid correctness (such as political correctness) when I read in forums some say they "do prefer Harry Potter to the Twilight series" or that "Stephen King is a better writer than Stephenie Meyer" . Oh come on! Harry Potter are books that made children return to reading, voluntarily!! Ok maybe so does Twilight but for stupid adults. How can you "prefer" Harry to say Bella when obviously, duh, Harry Potter are classic literary excellent awesomeness whilst Twilight is.. well... I suppose good for a rainy day and the sort who day dreams about marble sparkling vampires. Look, vampire books are good, Twilight is badly written. It is even worse than 50 Shades of Grey's writing, even more smaller world than the monotone Hunger Games where the leading lady keeps getting hospitalised. Twilight is just awful. And how can anyone compare Meyer to King? I am not a fan of King's ghost stories or creature novels but have you read Green Mile? Seen the movie? The book's even better and one book that will make you cry in the end. Stephen King happens to be a very imaginative and skilled writer and I love his messages to his Constant Readers.
I remember reading how Jeffrey Archer was snubbed by literary world, claiming his books are popular, which doesn't equate to well written. I wonder how these "snobs" now will react to fanfictions being marketed as novels these days? Surely they must faint at the rubbish out there. Suddenly Da Vinci Code is such a great book when before it was a well written entertaining book.
For god's sake, stop with these madness!!Stop comparing JK Rowling or Stephen King with Stephenie Meyer. No comparison. Compare her to E. L James. After all her book(s) was a fanfiction of Twilight! And what is it with these new amateur authors writing a story which can be finished in one book but now all stretched to 3 books minimum? Such a waste of good paper. Tolkien will roll in his grave as he must have thought "And I created a legend with my own language in 3 books..."