I have decided to group all posts about this beautiful man in this one post rather than make several posts. So that you can scroll on and on and on about him. However I am not at the level to create a blog specially for him. Anyway more on him in my Qing Shi Huang Fei post.
NOTICE - 14.07.2012
Due to the length of this post about Wallace Huo, I have split the contents. This is the 1st part of all my posts about Wallace Huo. Click read more link to read the rest of the post
-
FOR THE 2ND PART, CLICK HERE
06.07.2012
Wallace, you're a handsome guy. Very handsome. But if you don't mind, can you smile? Because you look miserable and I feel miserable because you look miserable!!
And guess what? Never seen more than 1 or 2 picture of a smiling happy go lucky Ling Huchong so his version is a serious sad melancholic Ling Huchong?
No smile here;
No smile here either ...
Ok, back up a few months or years...
OK! I give up!!! Smile damn you!
SMILE!!
19.05.2012
I had a shock to find out the following is Wallace's car;
Seriously? That is one really flashy looking car but what is the obsession with Chinese dudes and white/red/black cars?? Anyway shocking simply because he gives me an impression he is a boring guy, as in you know bored looking and boring, not flashy and all that and yet here he is, a car even flashier than Bosco's Audi!! Wait! Is that an audi? Was Bosco's horrendous red colour car Audi? Oh never mind! It just shows. No matter how boring, inside all men, boring flashy, whatever is a flashy sort of guy, one sexy beast. Not that Wallace is sexy. He is beyond sexy. He is beautiful. Anyway nice car, even if 2 seater is surely not one to drive your parents or friends in so my guess is either he uses it to drive himself and his girl around or this ain't his car.
By the way, lucky fan.
19.05.2012
Another series of funny PS picture with the 1st as the original. I love the last one and it convinces me he should have been DFBB in his own TV series. Or at least a costume in semi white. Funny & very well done!
17.05.2012
The following from Xing Ming Shi Ye (and when is it gonna be released? I am tired of waiting!!), where it is Wallace's most haggard looking series since he lost quite a bit of weight for this and the tan is more orange than tan BUT I love the hairstyle and that earring, which is Wallace's own idea by the way.
Still breathtakingly beautiful looking guy.
13.05.2012
Refer to post 14.03.2012 below, here is another classic addition to why PS can be fun and funny at the same time. Some fans are just too imaginative. From Swordsman, here is the original;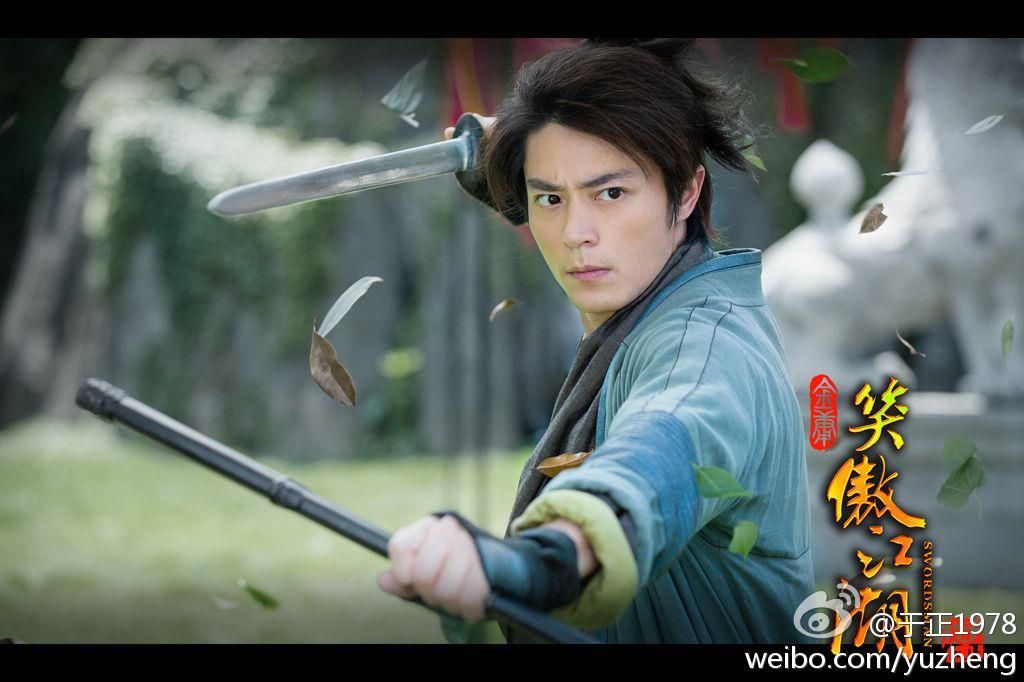 Handsome eh?
The PS-ed version.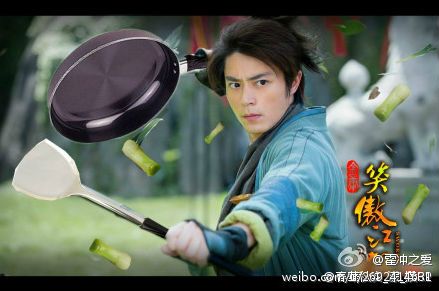 This is damn funny I tell you! Damn funny!!
And here is Wallace as Dong Fang Bu Bai's lover in Swordsman whose name I can never ever remember.
My personal opinion is he should have been Dong Fang Bu Bai. BUT if he is that character, then the actress playing Ren Ying Ying would have been wrongly cast because the book says Dong Fang Bu Bai is jealous of her beauty but Dong Fang Bu Bai's lover is prettier than everyone else! My suspicion is Yu Zheng will change the story to give more screentime to Dong Fang Bu Bai and show he/she having feelings for our hero Ling Huchong who will not reciprocate that feeling but will feel a sense of attraction and kinship with Dong Fang Bu Bai. The fact that he looks like his/her lover does not matter; I am sure our Dong Fang Bu Bai would be more attracted to a more masculine cute guy than a guy who wears the same lipstick as he/she does or even the same costume. Hence same man playing 2 characters. Or maybe his/her lover knowing she/he attracted to Ling Hu Chong will do everything to destroy Ling Hu Chong behind the screen and he/she will in the end die protecting Ling Hu Chong, in a show to make Dong Fang Bu Bai sympathetic and likeable, in a world where heroes are hypocrites and so called bad guys are actually normal human beings. I BET THAT IS THE STORYLINE!! You will see!! Frankly I don't like a youthful looking actress playing Dong Fang Bu Bai. I mean it is more exciting, easier to act out romantic scenes for those hinting at homosexuality but that being said, why not just go one step further and have lover of Dong Fang Bu Bai falling for his lookalike, that is Ling Huchong unless Yu Zheng wants to take one step further and show the lover is Ling Huchong's long lost twin brother? I mean Jin Yong's story is already overcrowded and dramatic, such an addition will just make it campy don't you think? I'd rather the Bridgette Lin's version though, but Bridgette Lin's Dong Fang Bu Bai struggled with his attraction with Ling Huchong whilst still in love with his lover. Which is why Bridgette Lin's version is far superior even if in the eyes of the lover of the original story that it is crap because here is a man who castrated himself in a bid to be the most powerful kung fu master and struggled with his sexuality and his own identity. This Swordsman version is simpler; Dong Fang Bu Bai was probably gay to begin with. No dilemma there.
24.04.2012
I am in love with the following gorgeous picture, so much so I can endure the woman he is holding in his arms prior to the "dung fong fa juk yeh". They looked so in love, happy. From Swordsman.
And the power of PS erased the lady, and so with Wallace alone, he looks rather whimsical, like he is alone, waiting for the bride and he is imagining all the wonderful stuff with her. I am waiting for someone to insert Fuya in it so that Lian Cheng can have his dying wish.
And another power of PS by changing the colour now makes him whimsical and yet sad.
He does have a lovely profile doesn't he, even if way too thin. However one thing I did learn from all these PS photos. A lot of PS does not work well with Wallace. He must be in original, some make up, in HD. Because he is naturally beautiful, using PS is like tempering with natural beauty and it just seems so wrong. So please, go light on the blur effect in PS! Instead, sharpen his image!!
03.04.2012
I really like the following picture for obvious reasons; the bamboo forest is beautiful, and also my man is gorgeous (from Strange Hero Yi Zhi Mei) but the picture somehow to me is photoshopped (most probably is) and he looks so fair it reminds me of Twilight except I hate Twilight unless there is a Chinese remake and Wallace is in it then I will like it.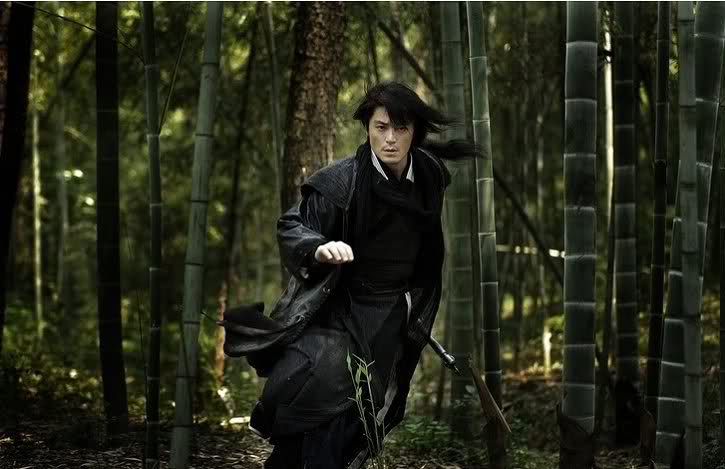 And somehow I really like the following picture too, from the filming of Swordman (aka State of Divinity 2012). I like how everyone is so playful and he alone lounges there like he doesn't have a care in the world. Like he is so not bothered at all, a man of his own, in a class of his own.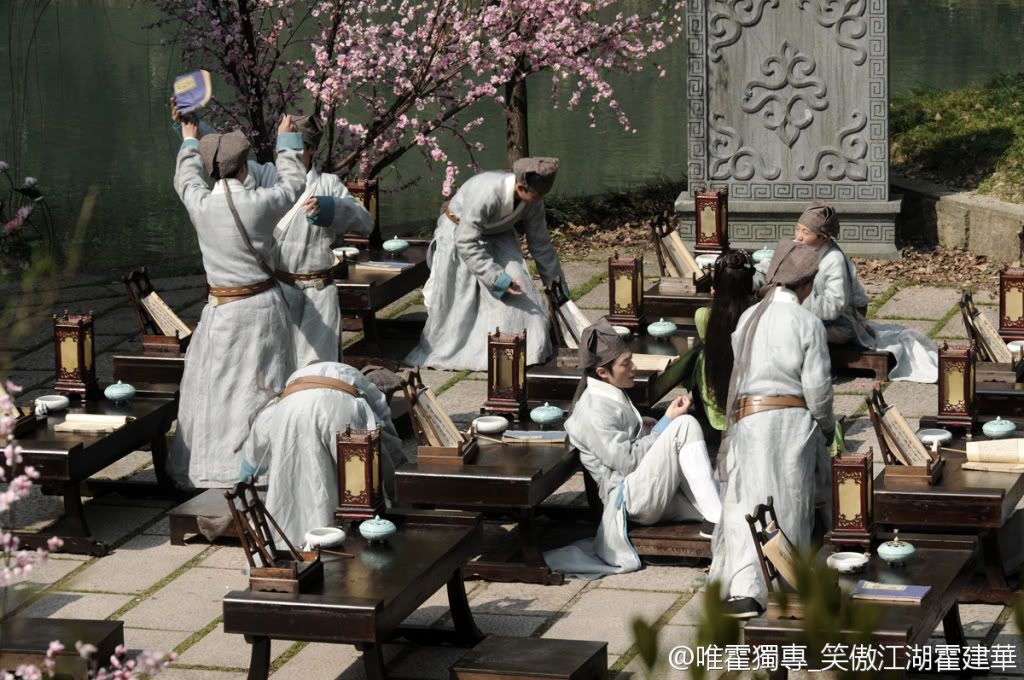 28.03.2012
I don't get why he is always wearing a hat whenever he is out and about, except maybe he hasn't styled his hair. Because whenever I watch a Korean variety show it talks about how the male stars have booked an appointment at some salon. But for someone who probably just uses soap to wash his face, Wallace doesn't strike me as such a salon person, so my guess is he wanted to avoid attention. Problem is his fans could recognise him anywhere, hat or not hat and those who doesn't still takes his picture because they think he is a good looking guy. I wish he gets rid of the hat. Anyway, my most favourite ordinary picture of Wallace taken from SPCNET. Probably taken by a friend, reposted in Weibo and redistributed by his legions of die hard fans hunting Weibo for his pictures. First, his complexion is rosy. Second his skin is flawless as much as he doesn't put a shred of powder on his face. Thirdly he is a rather fair pale looking man which normally I don't like but with him somehow a super tanned look doesn't fit. A bit on the thin side, not sure how old is this picture but overall my most favourite because however ordinary the setting, this man is absolutely gorgeous. His eyes though is strangely hypnotic in the sense that half closed eyes just makes me want to close my eyes too! Although admittedly he doesn't know how to pose for the camera. He is photogenic but a bit wooden in all his poses. The one who knows how to work the camera is Nicky Wu. I have yet to see a bad pose from Nicky Wu as much as I have yet to see a bad BTS picture of Wallace.
28.03.2012
Took the following from
SPCNET Forums
. Bathrobe or not, this man does not have a single bad picture when it comes to BTS picture. Still feel the costume is too clean, too wrinkle free, too proper, especially for a man who does not bother with his hair surely isn't bothered with his clothes properly tied? Rip it open a little!! The more I see, the less I am impressed with the costume. And see the
original size here
. Notice the makeup, different tone.
Beautiful side profile.
Some thinks this is his best feature; his super long eyelashes and real!! Wow!!
Some says his nose. Nice also! Lips. Ok. Chin. Jawline. Everything facial. Body... no comment. Frankly and I am not being cheesy when I say I love his smile and I mean HA HA HA smile the most because so damn rare.
27.03.2012
[ADD]
He does look like he is in a bathrobe doesn't he? Albeit a rather poor quality one as in slim thin cloth one
.
Took the following from
SPCNET Forums
, here is Wallace as Ling Hu Chung in a major adaptation of majorly major wuxia novel, State of Divinity, amongst its many names (I like this the best!) He looks great but the costume is too samurai for my taste. And I like his hair swept up. But oh never mind... this series is now in early stages of filming but has been gathering up a storm of news. I wonder how does Wallace feel about that? Being back on "idol" track? I am sure he would have thought this was possible since this is a Yuzheng production?
My favourite is the following though, reminds me of Strange Hero Yi Zhi Mei which to me had a more reliastic costume. This SOD aka Swordsman costume is too wrinkle free and clean for my taste. Did Ling Hu Chong just walked into a shop and bought new clothes?
I think fans did a far better job at photoshopping than the professionals at whatever Yuzheng's studio is.
And the actual Wallace at the filming site, minus the photoshop. Frankly, he looks better untouched than touched. I mean Photoshop wise. I am sure everyone wants to touch him.
Looks a bit like Aaron Kwok in this angle, but fairer and maybe taller.
By the way how many times has he played a taoist already?!
P/S The lady playing Dong Fang Bu Bai was his one and only ever acknowledged girlfriend but they parted ways before he left for China and that was like 8 or 9 years ago, if I am not mistaken. Who knows, if she is single, he is available, there could be some reignited passion or something.
25.03.2012
I have been looking for a heartfelt interview of Wallace which focuses on his background and his career and I sorta knew if it was the same lady who interviewed Ruby and Nicky interviewed him, it would be revealing. And I found it! Find
Part
1,
Part 2
and
Part 3
at youtube. Looks like a half hour interview. He looks great. Looking at the year it says 2010. I wonder was he filming Strange Hero then? I haven't finished watching so I may post some choice quotes! I am still looking for a gameshow like what the BBJX did in Happy Camp but I don't think he has ever been in such a show before. At least not for more than a 5 minute appearance. Also a very interesting childhood look
in this video
when he was in Taiwan. Is that his older brother? I think so! I read he has an older brother if I am not mistaken is a cop (do correct me if I am wrong). If this is now, I doubt he would let the camera to go so much into his childhood. If you know any worthwhile interviews (post Taiwan, not during Taiwan) do let me know!
23.03.2012
More from my favourite story in Strange Hero, Yi Zhi Mei. They actually kissed!! True! Lips to lips. Closed eyes some more!! Really funny scene and Wallace was exquisite BUT the actor he kissed, he was magnificent in his role. Wonder what is his name!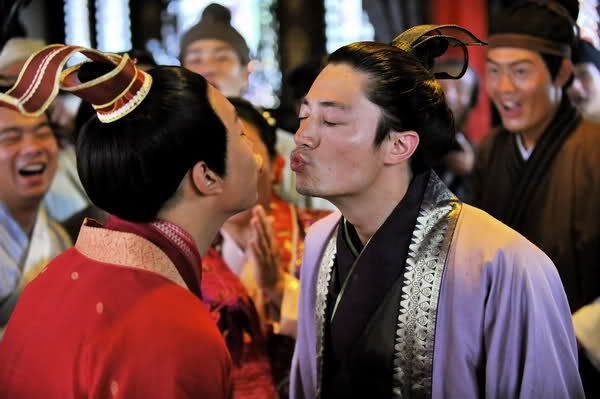 19.03.2012
Some more reasons why HD TV exists. Those I think is his real facial hair. Stills taken from
SPCNET forum
and from Strange Hero, Yi Zhi Mei which I highly recommend. My only irk and iffyness about his entire Mainland China acting career and that includes movies is that his voice is dubbed 90% of the time. There must be some prejudice going on with non-Mainland China actors but then even Mainland China actors are dubbed. So there must be some conspiracy to protect the jobs of dubbers. Wallace has made it abundantly clear he really wants to improve his acting, to move from idol to actor, hence moving from Taiwan (where idol dramas dominates) to China (where one presume non idol drama dominates). The joke is in Taiwan your real voice is used. In China, less likely. How does one judge a good performance? Face of course, body language definitely BUT voice is an intergral part of that as well. When your voice is masked, how then can it be said your acting is better? It will always be the missing ingredient. It is easier to list his works where he was not dubbed than dubbed, since the list is very short. I hate Taiwanese dramas and the so called idol dramas because the acting is always superficial. No, the story isn't even if it is almost about guy loves girl who loves guy who finds girl cute, etc etc. But then isn't that is what Mainland China series is becoming these days? I will say hate the performances, less on the content. I wish for real voices in those huge big historical dramas or even simpler ones. Why deny us? How can one be said to have improved in acting if that intergral part is not there? Try dubbing Sir Ian McKellan. He will club you on your head for even suggesting!! Anyway, beautiful man in these pictures...
The look you see above is actually from my favourite story in the series. Had such a good laugh watching the antics of Wallace and the other actor whose name I do not know but a fantastic actor nonetheless. More on that same look...
And the following makes for very nice wallpaper. The colours at the back are stunning. Computer generated? Photoshopped?
I realise he is better looking as he is older than when he was much younger when in Taiwan. And I propose that he grows his hair, and start tying up like in almost of all his ancients series dramas. I am so used to his hair this way, I find him almost unrecognisable in modern day hair. Anyway when it comes to Wallace, pictures must be posted in original size.
19.03.2012
He is fine and munching on ice-cream.
Anyway I now realise his handsomest was during Chinese Paladin 3 BUT I am not sure I want to watch that since well.. I don't want to. Right now I am still watching Strange Hero Yi Zhi Mei. Yes the story has huge problems but hey... the production is great and got minimum 2 handsome guys, or shall I say prettier than the leading lady too! And they both can act. So basically I am a happy woman. If you want to watch a decent Wallace Huo series, please, go for Strange Hero. Qing Shi Huang Fei is for you who wants to entranced by his beauty, not a good idea because just too darn memorable look wise.
18.03.2012
Oh no! Depending on reports, he was either in or still in hospital due to back pain which he got some years ago! I think back injury is like a common occurrence for actors these days, with all the action scenes or even just walking. So State of Divinity will be a problem since there's so many wire scenes and fighting scenes? That will need months of rest. Maybe that's why he always said no to offers for rest but he never actually got to rest because in the end he agrees to the offers? Not a good prognosis. Not that I have high hopes for Yuzheng and his productions. But then not that I know State of Divinity well.
14.03.2012
Found this at
SPCNET Forum
and I had such a good laugh. Photoshop has always been used to hide imperfection but this time.., just have a look...
I think the 1st picture top left is the original. The rest are reimagined. There's a Jedi and there's even an Osama. I can even see a durian and an angry Wallace/Lian Cheng with a basket of wine and tidbits. My favourite has got to be the one with the motorcycle!! But my most favourite is the one with his carrying the gas tank. Imagine him delivering gas tanks!! This is just so darn funny!!
13.03.2012
Original title was "Why HD TV Exists" and my post to that is as follows:-
Because of this beautiful man.
See picture 3;
Look at his eyelashes. Should be real because if fake, it should be thicker.
Look at his skin, lips and nose. Ignore the last picture since this is taken from a forum and it is like this.
Please don't ruin my day by telling me;
a. he's gay
b. he curses
c. he had a nose job
Especially not c!! Please let there still be natural beauties!!
Errrrr.... eyebrows can do with a better trimming (see Nicky Wu), eyes can be a tad bigger like open big big and not look like he is in a trance or stoned or dazed or all of the aforementioned. Some angle he looks like Aaron Kwok, some like Him Law, and yes some like the young Louis Koo but look carefully he isn't any of them. Nonetheless a beautiful face.
Pleasepleasepleasedon'tsayhehadnosejob!!!!
BUT he looks less beautiful out of ancient settings since he looks scrawny thin;
Fans don't quite like his hair gelled up look. But I was like isn't his hair that way in almost all series he is in, since ancient settings look is that way? I like a man who looks well groomed. And for me for modern setting, the following is to me like looking at the glorious 1920s sort of Hollywood glamour star;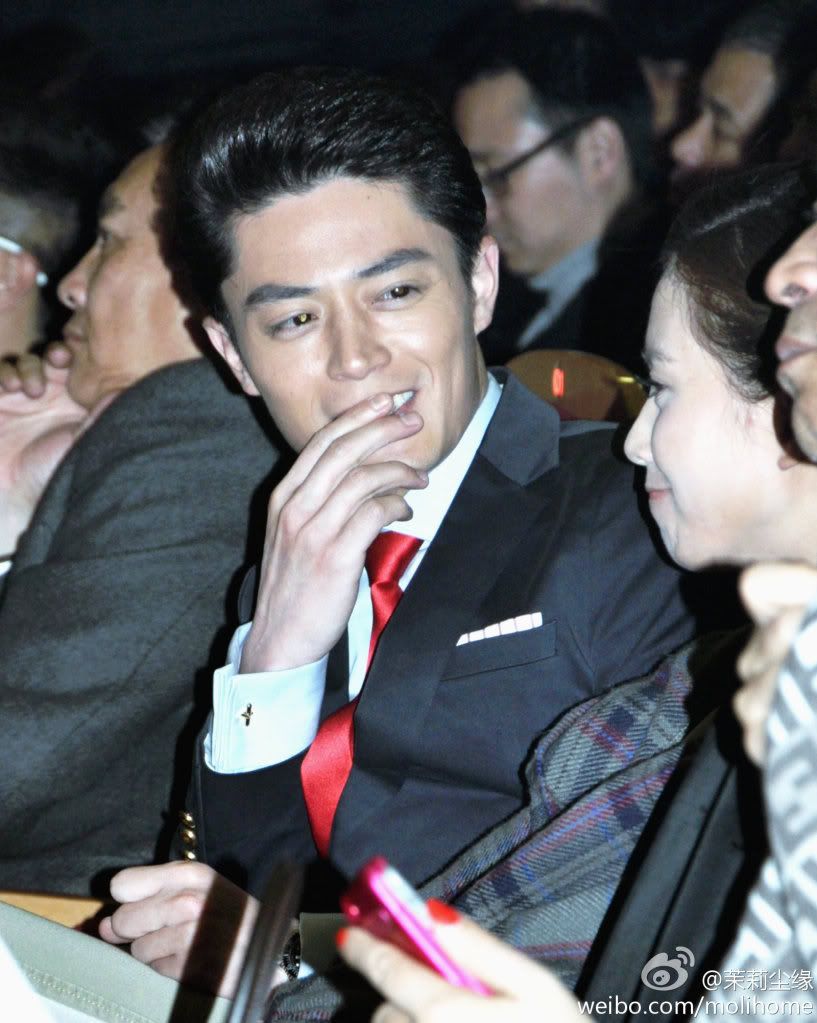 What he needs now is a better suit. A well cut suit because this suit is definitely not cut to his size but from those racks sort of purchase. And he needs to coordinate the colours and then he needs a vest. In short he needs to look at Daniel Craig's James Bond who to me defines what a well cut suit. With that suit and that hair, I believe he will no longer look beautiful, but look classically handsome, which is a rarity in Chinese entertainment world these days. And it helps to have a pretty lady next to you that dresses as glamorous as he dies so a bit of a wardrobe upgrade for Ruby will be perfect. He doesn't look as classically handsome when he was much younger; he in fact looked like an angry youth. But now... whether he went under the knife or not, I have decided I don't care. Many went under the knife and still looks really made up. All I know is this is it; damn handsome guy verging on beautiful, each feature on his face is perfect but when put together, no that is not a perfect face but no face should be perfect. A less than perfect face shows personality even if he has no personality. And it helps that he has a nice voice even if Mainland China keeps dubbing its stars and he looks a billion dollars even if slightly older looking than his real age.
But I am still not over the fact that he is called Wallace.